By Cris D. Putnam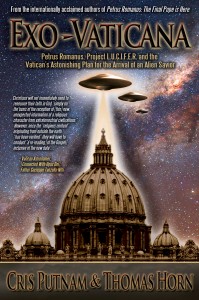 A book with a cover as sensational Exo-Vaticana has a lot of explaining to do and this post will do just that. For Roman Catholics, the year 1978 will long be remembered as the year of the three popes. Pope Paul VI, the pope who forebodingly declared, "The smoke of Satan…has entered the Sanctuary,"
[1]
died on August 6, 1978. In extraordinary agreement with the centuries-old prediction "from the midst of the moon" by Saint Malachy, on August 26, 1978, the precise day of a half moon, Cardinal Albino Luciani was elected on the second day of the conclave and became Pope John Paul I. Whereas we explained the preternatural circumstances connecting these events to the nine-hundred-year-old apocalyptic oracles of Saint Malachy O'Morgair in our previous work
Petrus Romanus: The Final Pope Is Here
, we did not realize that these events coincided with a major UFO flap over Rome that spanned the ill-fated rule of John Paul I through the early reign of John Paul II and with a reoccurrence upon his demise in 2005.
Within the midst of the doomed Pope John Paul I's brief pontificate, numerous cigar-, disc-, and triangular-shaped craft were seen haunting the skies across Italy by people from all walks of life, including Vatican officials. According to the Mutual Unidentified Flying Object Network (MUFON):
At 5:50 a.m. on September 14, people in Rome saw a triangular object for five minutes. At about the same time, people near Florence reported seeing a cigar-shaped object. Early on the morning of the 16th, highway police near Rome received calls about a "luminous triangle" and "a beam of greenish light."[2]
The early-morning, triangular craft sighting on September 14 in Rome was reported by police, Vatican guards, and airline workers.[3] The purpose and effect of the green radiation beam remains unknown. John Paul I mysteriously died two weeks later, on September 28, 1978. It was time to elect the third pope within a few months.
On October 16, 1978, a few weeks after the UFO incident, the College of Cardinals elected the prophesied "labor of the sun," John Paul II, to the pontificate. Born and buried on solar eclipses, his life also eerily synchronized with the medieval mottos of Saint Malachy. As the third pope within the calendar year and prophesied penultimate to Armageddon, the spiritual warfare in Rome was at a fever pitch. The UFOs grew more invasive—so much so that the story made the New York Times news service and appeared in newspapers across the US in December 1978.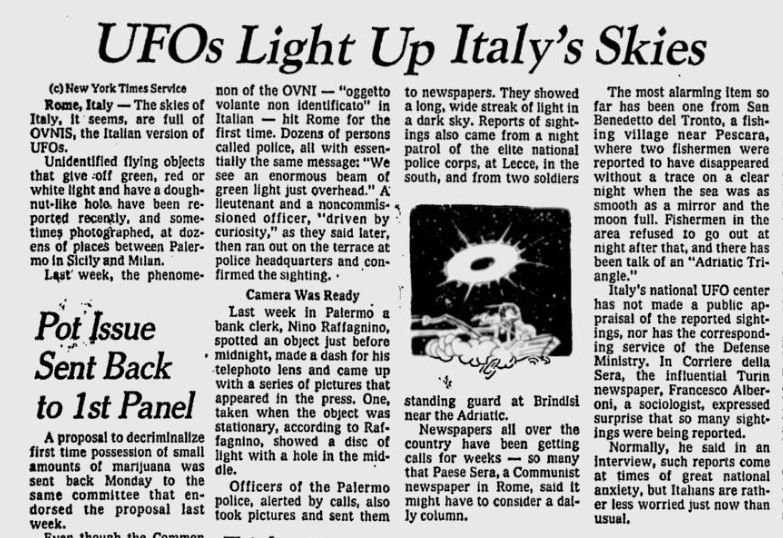 The Milwaukee Journal, December 18, 1978
Dozens of persons witnessed and photographed a strange, doughnut-shaped craft emitting a beam of green light above Rome on December 14, 1978. According to the article, Rome's police department corroborated the UFO sighting. More disturbing, two fisherman in a nearby village disappeared, and their fate is unknown. This unprecedented level of UFO activity above Rome coincided with the infamous year of three popes. At minimum, the correlation is suggestive, but that is not the end of the story.
The sole survivor of the 1978 tri-pontificate, John Paul II, died on April 2, 2005, after a long and well-received reign. He probably did more to popularize the papacy than any pope in recent memory. His body was dressed in his vestments and moved to Clementine Hall on the third level of the Apostolic Palace on April 3. The next day, three red pillows were secured endearingly beneath his head, and the coffin was moved onto a red velvet platform to facilitate the various ceremonies and sacraments that were to continue for days. As the pope must be buried between the fourth and sixth day after his death, Friday, April 8 was chosen as the last possible burial date. The Mass of Requiem led by Cardinal Joseph Ratzinger was scheduled for 10:00 a.m., but early that morning they received an unannounced visitation of the Close Encounter II variety, and this time it was caught on video.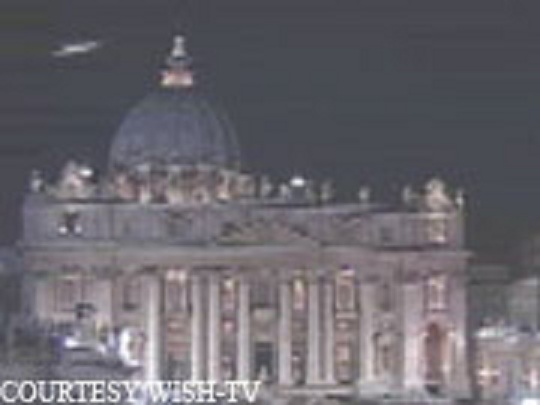 April 9, 2005, at 6:00 a.m.
Raiders News Update featured a story that weekend that explained the above video still:
Indianapolis News Channel 8 released a video taken Thursday evening of St. Peter's Basilica in Vatican City showing what appears to be an unidentified flying object moving across the upper left portion of the screen. The video, taken from a network feed camera at around 6:00 a.m. Roman time, was filmed as Pope John Paul II lay in state.[4]
We contacted the Indianapolis station WISH-TV about the video footage, but unfortunately, they do not have archives reaching back to 2005. Another Internet story preserves the incident:
Unusual Light Appears Over Vatican

Saturday, April 9, 2005:

The light pictured here appeared over St. Peter's Basilica. It was 6:03 a.m. Italian time on the morning of April 8, 2005, 6 hours before Pope John Paul II's funeral. AnUnknowncountry.com reader writes, "I watched this as it happened live on TV. It was awesome and just a little chilling. I feel that this event (sign) is of great significance.…"

Night video is notoriously deceptive and difficult to analyze, and there is no way to be certain that this is an anomalous object, but numerous viewers who called our attention to it claim that it appeared much larger than a bird, and to have an internal light source. It moved very quickly, with a swift gliding motion. No other similar objects appear on the tape.[5]
This photograph alone would justify our cover, but 1978 and 2005 are not the only incidents. In our former work, Petrus Romanus, we suggested a nine-hundred-year-old prophecy may have predicted the rise of the biblical false prophet. He will be revealed to the world just a few short days from now, might they come back? I suggest we watch the skies over Rome!


---
Follow @logosapologia