Cris Putnam, Gary Winkleman, S. Douglas Woodward, Derek and Sharon Gilbert (via noosphere) participate in a discussion about Transhumanism led by Basil and Gonz of Canary Cry Radio. From the Prophecy Forum conference last Fall in Dublin Ohio.
Tom Horn told me that the new documentary Inhuman should be out in less than a month or so.
Signed copies of On the Path of the Immortals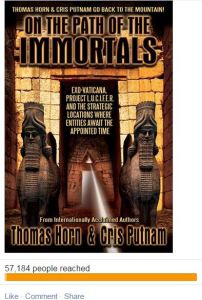 and my other books include (while they last) a free DVD Historicism Back to the Future.
Follow @logosapologia