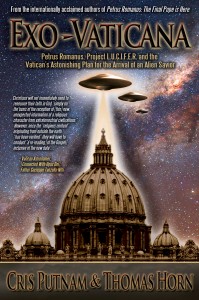 In Exo-Vaticana: Petrus Romanus, PROJECT LUCIFER, and the Vatican's astonishing exo-theological plan for the arrival of an alien savior, internationally acclaimed investigative authors Thomas Horn and Cris Putnam break the greatest story of our time and expose the elitists and intellectuals who are planning to assimilate mankind under a coming 'savior,' one whom the prophet Daniel foresaw as "an alien god."
Signed Copy only $15.00 plus $4.00 shipping Domestic USA Only!
TABLE OF CONTENTS:
Prologue: The Year of Three Popes and the UFO Invasion
Introduction: Prolegomena
SECTION ONE: THE INVESTIGATION BEGINS
1.1.   Mount Graham and the L.U.C.I.F.E.R. Project: The Investigation Begins
1.2.   The Sky Island's Assimilation for Extraterrestrial Evangelism
1.3.   Days of Noah
1.4.   They Live
1.5.   The Return of Hybrid Humans
1.6.   Fairies, Changelings, and the False Messiah from Magonia
SECTION TWO: ESSENTIAL HISTORY OF ASTROBIOLOGY
2.1.   Astrobiology and the Extraterrestrial Worldview
2.2.   Astro-Apologetics and the End Times
2.3.   Essential History I: Atomism and the Occult
2.4.   Essential History II: Galileo to Chardin
2.5.   Exotheology: Nature and Grace
SECTION THREE: WHEN CHARIOTS OF THE GODS APPEAR
3.1.   First Incursion of the Chariots of the (Fallen Star) Gods
3.2.   The Extradimensional Hypothesis
3.3.   Fátima: Harbinger of the Great Deception?
3.4.   When Chariots of the Fallen Star Gods Appear
3.5.   Christians, UFOs, and Alien Abduction
SECTION FOUR: THE COMING GREAT DECEPTION
4.1.   If Artificial Structures Are Found on Another Planet (Xenoarchaeology), Will You Lose Your Religion?
4.2.   The Power and Principality's Planetary Control System and the UFO Mythos
4.3.   Petrus Romanus, Project LUCIFER, and the Vatican's Astonishing Plan for the Arrival of an Alien Savior
Follow @logosapologia